We believe that every human person was created by the same God. Ultimately, we are all brothers and sisters. We are all connected. As one human family, we are deeply connected to people around the world – wherever they may be. Because we are one, we are affected by the joy and suffering of all. "If one member of Christ's body suffers, all suffer. If one member is honored, all rejoice." (1 Corinthians 12:12–26).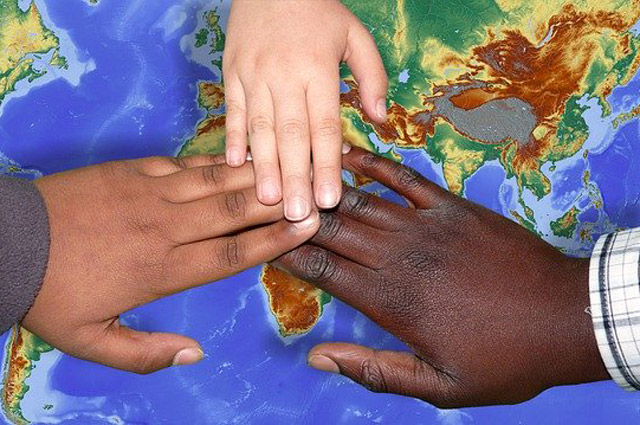 We are one human family whatever our national, racial, ethnic, economic, and ideological differences. We are our brother' and sister's keepers, wherever they may be. Loving our neighbor has global dimensions in a shrinking world. At the core of the virtue of solidarity is the pursuit of justice and peace. The Gospel calls us to be peacemakers. Our love for all our sisters and brothers demands that we promote peace in a world surrounded by violence and
conflict.
immigration

refugees & asylees

homelessness

foreign aid

global policy

empowerment

religious freedom
God of love, we pray for peace in our world and an end to war. Instead of hatred, let there be love. Shelter your children and protect us. Guide us and keep us from harm, so we can build a world of love and live our lives in peace. Through Christ our Lord.
Amen.
The Grail Prayer 
Lord Jesus. I give you my hands to do your work, I give you my feet to go your way, I give you my eyes to see as you do, I give you my tongue to speak your words, I give you my mind that you may think in me, I give you my spirit that you may pray in me, Above all, I give you my heart that you may love in me your Father and all mankind, I give you my whole self that you may grow in me so that it is you Lord Jesus who live and work and pray in me. Amen.